Chocolate Hazelnut Fritters Recipe
By:

Wendy O'Neal
Grab your jar of Chocolate hazelnut spread and your fryer and whip up these fun state fair inspired Chocolate Hazelnut Fritters. Our state fair fries up pretty much anything they can get their hands on. Since my kids love chocolate hazelnut spread, I knew I needed to figure out a way to fry up a batch of chocolate hazelnut spread and these Chocolate Hazelnut Fritters were a huge hit with the kids.

Using the Ginny's Double Fryer makes quick work of these fritters since you can alternate sides and not have to wait for the oil to come back up to the proper temperature between batches. They are messy to make, but the taste makes up for the mess because they are a little bit of chocolate-y hazelnut heaven, deep fried to a golden brown, then dusted with powdered sugar.

Using a pancake mix, cuts down on the number of extra ingredients as it already has sugar and thickeners built into the mix. Adding the baking powder helps the batter expand when frying, creating the light texture. The Chocolate hazelnut spread mixes into the batter, but there is also a little liquid Chocolate hazelnut spread center too - they are perfect!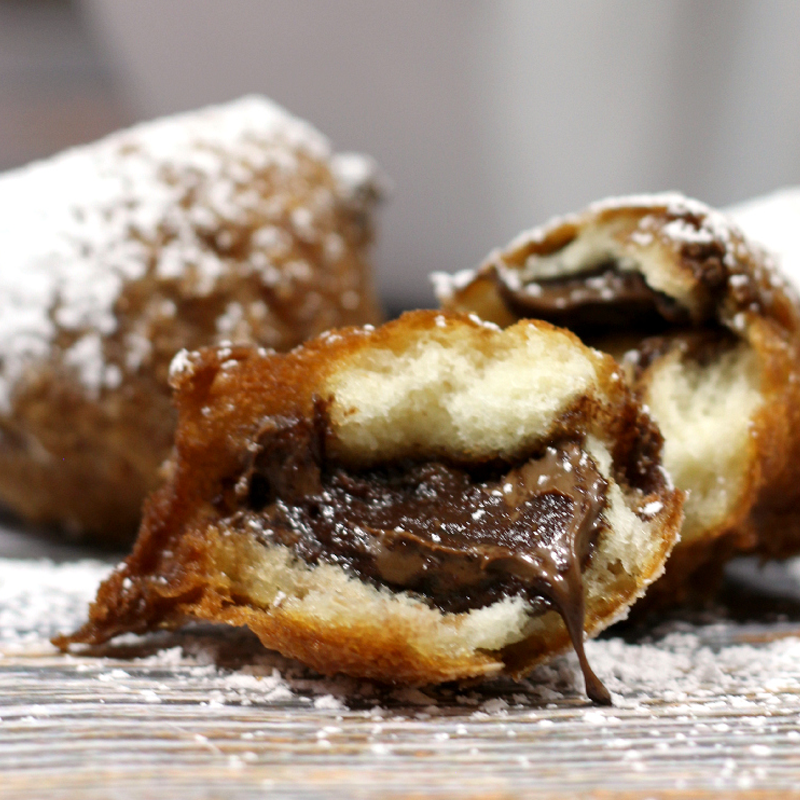 Ingredients:
1 ½ cups all-purpose pancake mix
1 tsp baking powder
1 cup milk
2 tsp vegetable oil
1 small jar of chocolate hazelnut spread
Powdered sugar
2-4 quarts oil, for frying

Instructions:
Pour oil into fryer and heat oil with the lid on to about 360° F.

Meanwhile, prepare the batter by combining pancake mix, baking powder, milk, 2 tsp vegetable oil in a large mixing bowl. Mix well to combine and remove any lumps. Batter will be very thick.

When oil is hot and ready, make sure the basket is lowered into the oil as you will be dropping batter into the oil and won't be using the basket to lower the fritters (only to remove them).

Drop chocolate hazelnut spread into the batter by the teaspoon full (do about 4 at a time). Gently cover the chocolate hazelnut spread with batter and scoop up and drop into the hot oil to fry. Balls of chocolate hazelnut spread batter will be runny, not a fully formed ball, and should be about 1 tablespoon or so in size. Work in small batches to keep the oil temperature high for quick frying.

Fry fritters for about one minute per side or until lightly golden brown. Remove from oil carefully, using the basket, and let drain on paper towel. When cooled, sprinkle with powdered sugar and enjoy.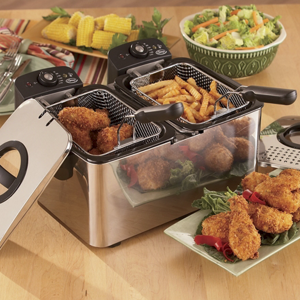 Featured Item
Ginny's Brand Double Deep Fryer
Ginny's Brand Double Deep Fryer not only makes tastier fried foods—it fries two different foods side by side. Think flawless fried chicken and onion rings, or batter-dipped fish and French fries. Independent controls let you heat each 3-qt. tank to the exact temperature your recipe requires (between 285° and 375° F). Start frying when you get the green light, then bring both dishes to the table at the same time—each perfectly crisp and piping hot. For smaller snacks like morning doughnuts or mozzarella sticks, you can use only one tank. Stainless steel body has cool touch side handles and two enamel-on-steel tanks and vented stainless steel lids with washable, aluminum mesh filter. Heating elements immerse fully to keep oil hotter, so food comes out crisper and less oily. Mesh baskets (8" l x 6" w x 4 1/4" d) have cool-touch resin handles. All parts dishwasher safe except removable heating element. Detachable 38" cord. 1500 watts. 18" l x 10" w x 7 1/4" h.

Wendy O'Neal
I'm Wendy O'Neal, author of Around My Family Table. I'm always in the kitchen! Always! That's where the chocolate and Coke are hidden. I do come out occasionally to spend time with my 2 rambunctious kids and Hubbyman! I have been cooking as long as I can remember and my simple, from scratch cooking is what won my Hubbyman's heart. I believe getting together around the supper table is important for families. Let me help you get there faster with my quick and easy, family-friendly recipes.

Life threw Wendy a curve ball when she was diagnosed with life-threatening food allergies several years ago, so you'll find a mixture of traditional and allergy friendly recipes on her blog: Around My Family Table

Facebook: Around My Family Table
Twitter: @myfamilytable
Instagram: @myfamilytable
Pinterest: Wendy | Around My Family Table
Blog: http://www.aroundmyfamilytable.com