Beer Battered Pickle Wraps
By:

Chelsea Fanders
Pickles wrapped in cream cheese and corn beef are one of my go-to's for parties. They are so easy to make but are always a crowd pleaser. I wanted to take that common appetizer up a notch by beer battering and frying those little pickles!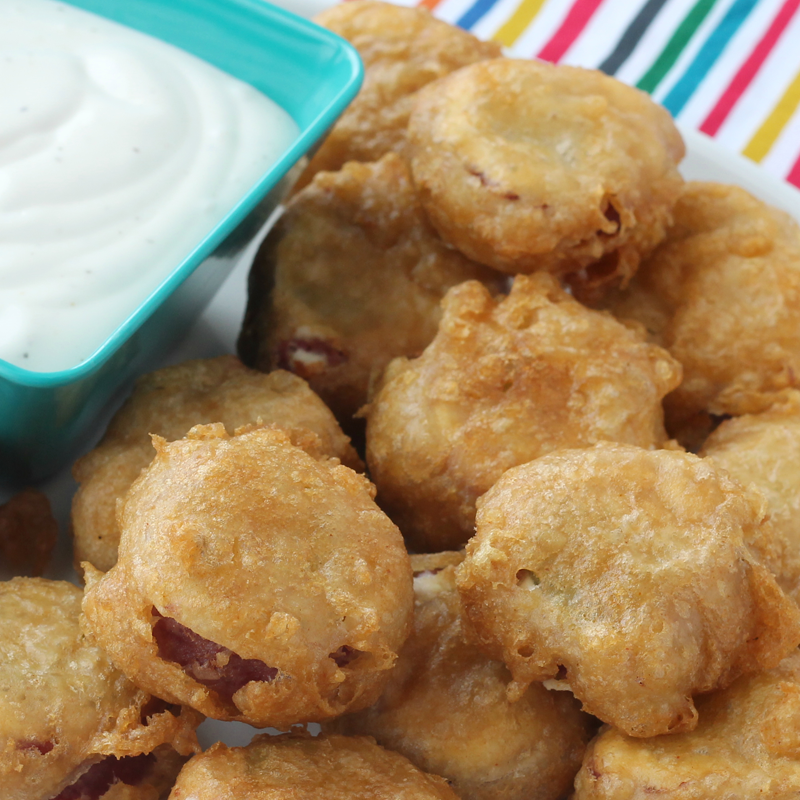 Ingredients:
Pickles
6-10 whole dill pickles
8 ounces cream cheese, softened
½ lb sliced corned beef (sandwich sliced; thicker pieces are easier to work with)

Beer Batter
1 egg
1 cup of all-purpose flour
1 teaspoon baking soda
1 teaspoon paprika
Salt and pepper to taste
1 cup of your favorite beer (more/less for desired batter thickness)
1/4 cup of all purpose flour for dredging
Ranch dressing for serving.
Instructions:
Prepare pickle wraps by spreading a layer of softened cream cheese on a slice of corned beef. Using a paper towel, wipe off excess pickle juice from the dill pickle before placing it on top of the cream cheese. Gradually wrap the corned beef around the pickle so it's fully encased in corned beef. Lightly roll the wrapped pickle like you would roll a rolling pin to make sure it's secure. Use a sharp knife to cut the pickle into slices. Repeat above steps for remaining pickles.

Place prepared pickle wraps on a wax paper lined cookie sheet. Once all pickle wraps are prepared, place in the refrigerator to chill for a few hours. (Can be made the day before to save time.)

When ready to fry, prepare the beer batter. In the bowl of a stand mixer, beat the egg until foamy or bubbly. With the mixer on low, add the flour, baking soda, paprika and salt and pepper. Slowly add in the beer a little bit at a time. Don't over mix but do make sure the mixture is smooth.

Preheat your Ginny's Double Deep Fryer to 325 degrees. Place extra flour in a small bowl.

Once the deep fryer is preheated, remove your pickle wraps from the refrigerator. One at a time, drop into the extra flour to lightly coat. This will help the batter to stick. Then, using tongs dip the pickle into the batter. Lightly shake to remove excess before carefully placing in the fryer.

Fry for 2-3 minutes, flipping half-way through, or until lightly brown. Remove from deep fryer and place on a paper towel lined cookie sheet to absorb excess oil. Do not crowd the fryer; only fry 2-3 at a time to keep the oil temperature where it needs to be.

Serve warm with ranch dressing for dipping.

Makes 20-25 beer battered pickle wraps. Best if enjoyed right away.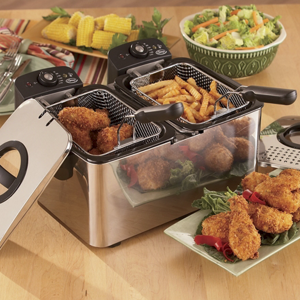 Featured Item
Ginny's Brand Double Deep Fryer
Ginny's Brand Double Deep Fryer not only makes tastier fried foods—it fries two different foods side by side. Think flawless fried chicken and onion rings, or batter-dipped fish and French fries. Independent controls let you heat each 3-qt. tank to the exact temperature your recipe requires (between 285° and 375° F). Start frying when you get the green light, then bring both dishes to the table at the same time—each perfectly crisp and piping hot. For smaller snacks like morning doughnuts or mozzarella sticks, you can use only one tank. Stainless steel body has cool touch side handles and two enamel-on-steel tanks and vented stainless steel lids with washable, aluminum mesh filter. Heating elements immerse fully to keep oil hotter, so food comes out crisper and less oily. Mesh baskets (8" l x 6" w x 4 1/4" d) have cool-touch resin handles. All parts dishwasher safe except removable heating element. Detachable 38" cord. 1500 watts. 18" l x 10" w x 7 1/4" h.

Chelsea Fanders
Chelsea Fanders is the voice behind Whatcha Makin' Now?. As a full-time marketing manager at a real estate company in Kansas City, Chelsea focuses on sharing recipes that can be prepared after a long day at work or quickly on a weekend. The ingredients are simple but the flavor will please any crowd. While food is the focus, Chelsea will oftentimes share stories about her pup, Henry, and husband, Jacob. She loves social media and marketing almost as much as she loves chocolate chip cookies. Instagram is her favorite social media channel – join Chelsea on her baking journey by following @cfanders.

Facebook: Whatcha Makin' Now?
Twitter: @whatchamakinnow
Instagram: @cfanders
LinkedIn: Chelsea Fanders
Pinterest: Chelsea Fanders
Blog: http://whatchamakinnow.com
Newsletter: http://eepurl.com/qrhUP