Slow Cooker Triple Chocolate Brownies
By:

Chrissy Taylor
I'm so excited to share a new and unique way of how you can use your Ginny's slow cooker! We all know that making soup and roast in our slow cooker is possible, but did you know that you could also make desserts? Even something as delicious as these Triple Chocolate Brownies! Check out below on how easy they are to make.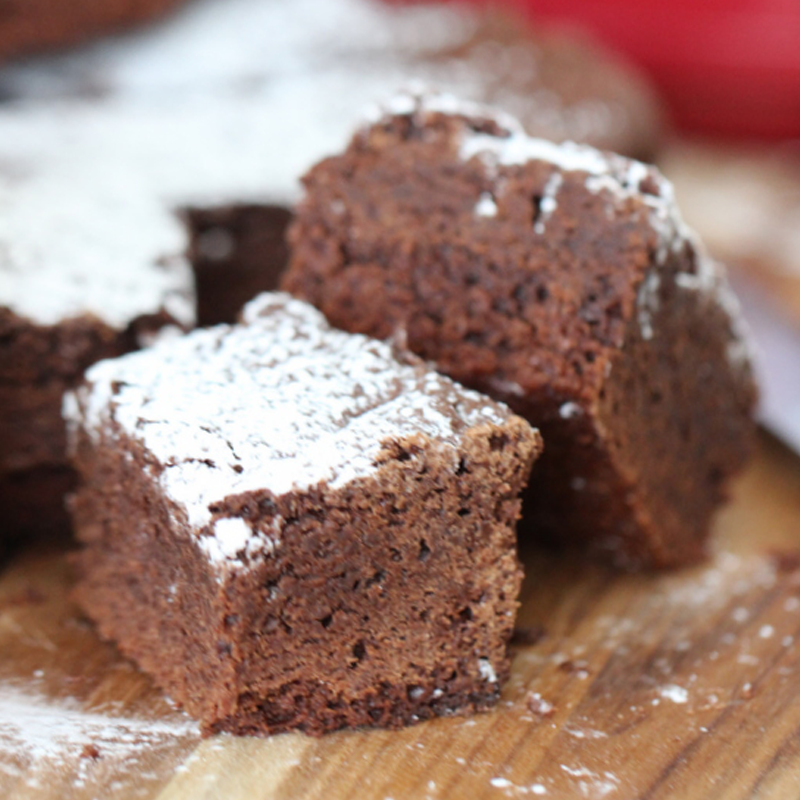 Ingredients:
Cooking Spray
Parchment Paper
1 ¼ Cups All-Purpose Flour
¼ Cup Cocoa Powder
½ Teaspoon Kosher Salt
½ Cup Butter (1 Stick)
8 Ounces Chocolate, chopped (I used Mini Chocolate Chips)
1 Cup Sugar
3 Large Eggs, beaten
1 Teaspoon Vanilla Extract
1 Cup Chopped Pecans (optional)
1 Cup Chocolate Chips
Instructions:
Lightly coat the Ginny's slow cooker with cooking spray before placing a piece of parchment paper inside that will cover the bottom and up the sides of the machine. Spray the parchment paper with cooking spray, as well.

In a small bowl, whisk together the flour, cocoa powder, baking powder and salt.

Microwave the butter and 8 ounces of chocolate in the microwave for 30 seconds. Stir and microwave another 30 seconds until it is completely melted.

Add the sugar to the chocolate mixture and whisk to combine well.

Whisk in the eggs and vanilla.

Stir in the flour mixture until the flour is just moistened.

Fold in the pecans and chocolate chips.

Pour the batter into the slow cooker and smooth out the top with a spatula.

Cover and cook on low for 3 ½ hours. Then, uncover and continue to cook on low for another 30 minutes.

Remove the parchment paper with the brownies from the slow cooker and place on a wire rack to cool.

These Triple Chocolate Brownies are delicious on their own with a light dusting of powdered sugar or when warm with vanilla ice cream and all the toppings you can dream of like chocolate fudge, whipped cream, caramel sauce, sprinkles and more! My kids love having a brownie bar for dessert where they can pick all the toppings they want on their brownie.

This is a great dessert idea for when you have friends or family coming over for a party or get together but also simple enough to make as a weeknight dessert for the family.

Did you know that you could make desserts in your slow cooker?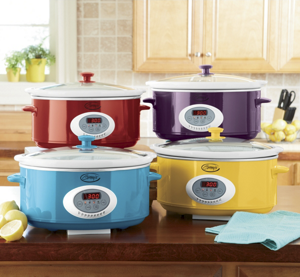 Featured Item
Ginny's Brand 6.5 Quart Oval Digital Slow Cooker
Rely on Ginny's Brand 6.5-Qt. Oval Digital Slow Cooker for everything from no-fuss family dinners to delicious party fare. With its generous size and easy digital controls, it's the most efficient way to cook for a crowd. Simply set the programmable timer and walk away. Cooker will select the appropriate cooking temperature and self-adjust to warming mode at the end of cooking time. Tempered glass lid lets you keep an eye on progress and fits well inside the cooker's glazed stoneware insert, retaining moisture and heat. Housing has nonslip feet for countertop stability. Insert is dishwasher safe. 270 watts. 13" l x 10 3/4" w x 7" h.

Chrissy Taylor
Chrissy Taylor is the owner and author of the lifestyle blog The Taylor House where she shares easy recipes for busy moms. At The Taylor House, you'll find delicious desserts alongside practical family meals that anyone can make with everyday ingredients. She loves finding unique ways to use products in her recipes.

Chrissy is a married mom with two active boys who live in the Minneapolis area. When she isn't taking care of her boys, watching them play soccer or creating delicious recipes, she and her husband rehab houses on the weekends. In the last four years they have flipped six homes while working full-time jobs.

Facebook: A Taylor House
Twitter: @taylorhouseblog
Pinterest: The Taylor House
Instagram: @cmaetaylro