Rice Cooker Mac and Cheese
By:

Jamie Sherman
Dust off that rice cooker!! Did you know that your Ginny's Rice Cooker can be used for so much more than just to make rice? You can easily make a comforting bowl of from-scratch Mac and Cheese with just a few common kitchen ingredients! Dinner has never been so easy or so good!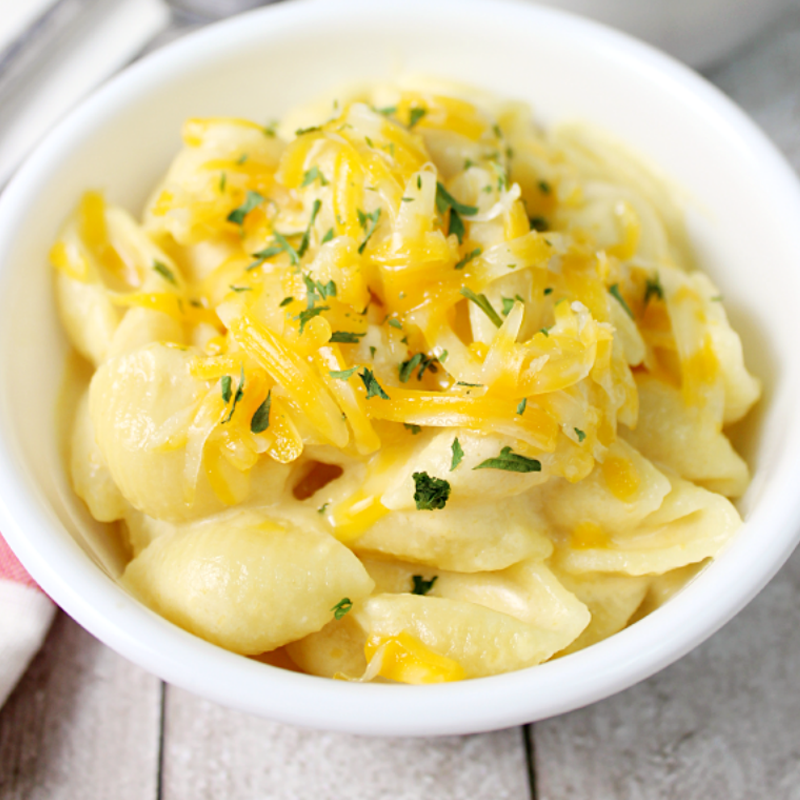 Ingredients:
2 cups shell pasta (or your favorite dried shaped pasta)
2 cups homemade chicken/vegetable broth or water
1 cup half and half or milk
2 tablespoons butter
1-½ cups (6 oz.) shredded Colby and Monterey Jack cheese, divided
Salt and pepper, to taste
Pinch cayenne pepper (optional)
Parsley, for garnish (optional)
Instructions:
In your Ginny's rice cooker, combine the pasta with the broth or water. Stir. Cover with the lid and plug in the appliance. Press the button for cook mode. Cook, stirring once or twice, until the appliance switches over to the warm cycle, about 15 minutes. Most of the broth or water should be absorbed.

Set the lid aside and stir in the half and half or milk, butter and 1-¼ cups of the shredded cheese. Season to taste with salt and pepper. Add the cayenne pepper, if using. Using a spoon or spatula, give the mixture a stir. Replace the lid over the top of the appliance and press down on the cook button. Cook for an additional 10 minutes or until the pasta is tender and the mixture seems well incorporated when mixed. You may not need to cook it until it switches over to the keep warm cycle - be sure to check the Mac and Cheese towards the end of the cook time, stirring occasionally.

To serve
Divide the Mac and Cheese between serving dishes. Top each portion with a bit of the remaining Colby and Monterey Jack cheese. Garnish with parsley, if desired. Serve immediately.

Prep time: 3 minutes
Cook time: 25 minutes
Yield: 4 servings

Notes and Suggestions
You can easily make this meal stretch further or give it an additional nutritional boost by mixing in canned tuna and cooked peas just before serving. Cooked broccoli florets or butternut squash would be great additions as well! Feel free to substitute your favorite cheese in place of the Colby and Monterey Jack used in the recipe - combining Cheddar and Parmesan makes for a great Mac and Cheese dish also!
Featured Item
Ginny's Brand Rice Cooker and Food Steamer
My Ginny's Brand Rice Cooker and Food Steamer makes restaurant-quality rice and healthy vegetables at the same time! It has a removable aluminum cooking pot with nonstick surface, aluminum steamer pan and a domed, tempered glass lid with steam vent. It automatically switches to keep-warm when done (and it knows to adjust the cooking time for brown rice, too!). Makes up to 10 cups of cooked rice. 400 watts. Cooking pot and lid are dishwasher safe (hand wash steamer insert). Includes plastic measuring cup and spoon. 10 3/4" w x 11" h.

Jamie Sherman
Jamie Sherman founded Love Bakes Good Cakes in February 2012. She spends her days with her husband, Brian and homeschooling 4 of their 5 children in the Phoenix area. Her oldest son is currently in culinary school. She also develops and tests recipes using her own family recipes that have been handed down to her, as well as those she adapts from various resources. Her love of cooking started very young from watching her mother and grandmother in the kitchen - it's a love she hopes to instill in her own children and gladly shares with her readers! Jamie believes meals and recipes should be easy enough for the average cook and she seeks to use ingredients that are available in most local markets. She strives to share recipes that are family-friendly, budget-friendly and cook-friendly!

Jamie was featured as a Top 25 Foodie Mom of 2013 in the Circle of Moms list. Her work has also been featured on MSN, Huffington Post, BuzzFeed, Parade, Foodgawker, Tastespotting and ALL YOU. She has worked with many brands and is a monthly contributor for two other blogs, in addition to starting up her second blog, eat. drink. yum., in January of 2015.

Facebook: Love Bakes Good Cakes
Twitter: @JamieLBGC
Pinterest: Love Bakes Good
Instagram: @lovebakesgoodcakes
Google +: https://plus.google.com/b/111644185259324209839/+Lovebakesgoodcakes/posts
BlogLovin': http://www.bloglovin.com/blogs/love-bakes-good-cakes-3945024