Pepperoni Mac and Cheese
By:

Melisa Armstrong
Mac and cheese has been a long time favorite of mine. I think I've eaten more blue boxes of mac and cheese than I could count. Mac and cheese was one of about 5 things I would eat as a kid.

I still love a big bowl of my favorite comfort food but I also like to change it up a bit. For this recipe, I added in some of my favorite pizza flavors. Pepperoni and mozzarella cheese and plenty of garlic take this dish to over the top deliciousness.

What really makes this dish a winner is how simple it is to make! I made it all in my Ginny's Rice Cooker! You won't believe how easy it is. No matter your cooking experience level, this is within your reach.

You simply add the pasta and a bit of water, cover and press cook. About 18 to 20 minutes later your pasta is cooked perfectly, no draining necessary.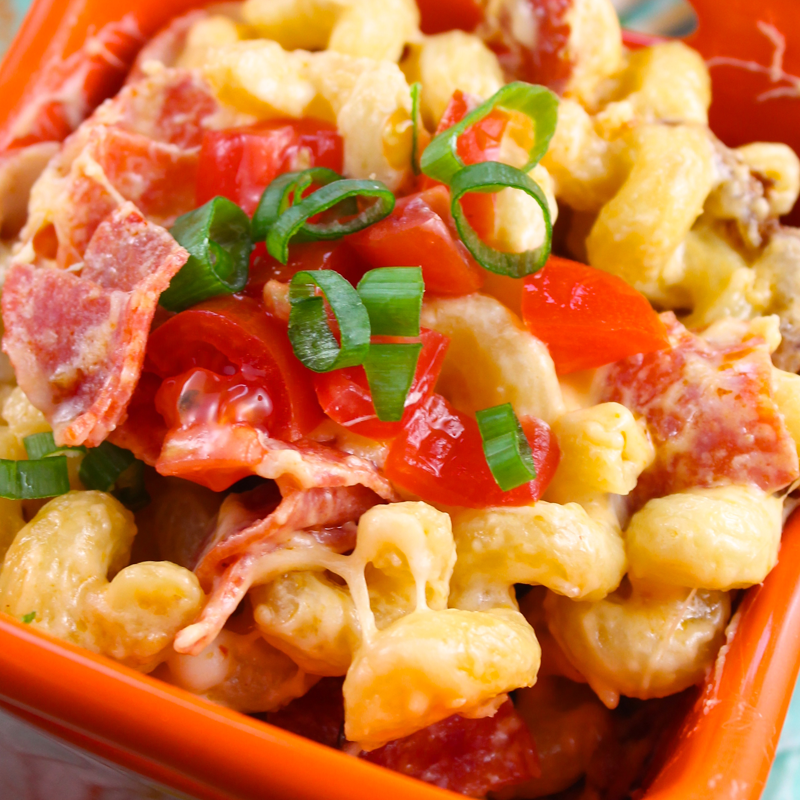 Ingredients:
3 cups pasta (I used cavatappi. macaroni, shells or rotini would be great too)
1 ½ cups water
4 oz softened cream cheese
½ cup milk
1 cup shredded mozzarella cheese
1 cup shredded colby-jack cheese
¼ teaspoon granulated garlic
¼ teaspoon salt
½ cup pepperoni, sliced or chopped
Fresh tomatoes and green onions for garnish
Instructions:
Add pasta and water to the rice cooker. Cover and push cook. Ginny's Rice Cooker will click over to warm when pasta is done, about 18 to 20 minutes.

Meanwhile, add cream cheese and milk to a microwave safe bowl. Microwave 1 minutes and whisk until smooth. Whisk in garlic and salt and stir in shredded cheese and pepperoni.

When pasta is cooked, add cheese sauce and stir until well combined. Cover and press cook. Ginny's Rice Cooker will click to warm in about 8 to 10 minutes. Stir well. Spoon into serving dishes and garnish with fresh tomatoes and green onions or your favorite pizza toppings.
Featured Item
Ginny's Brand Rice Cooker and Food Steamer
Rely on Ginny's Brand 6.5-Qt. Oval Digital Slow Cooker for everything from no-fuss family dinners to delicious party fare. With its generous size and easy digital controls, it's the most efficient way to cook for a crowd. Simply set the programmable timer and walk away. Cooker will select the appropriate cooking temperature and self-adjust to warming mode at the end of cooking time. Tempered glass lid lets you keep an eye on progress and fits well inside the cooker's glazed stoneware insert, retaining moisture and heat. Housing has nonslip feet for countertop stability. Insert is dishwasher safe. 270 watts. 13" l x 10 3/4" w x 7" h.