Italian Meatloaf "Cupcakes"
By:

Samantha Skaggs
A fun spin on classic meatloaf, Italian Meatloaf Cupcakes are flavored with marinara sauce, Italian herbs, and Parmesan cheese. This savory recipe was inspired by my favorite way to cook meatloaf -- in a muffin pan! -- because it bakes quickly and yields cute, individually sized portions. And the fluffy, flavor-infused mashed potatoes piled on top are just "icing on the cake!"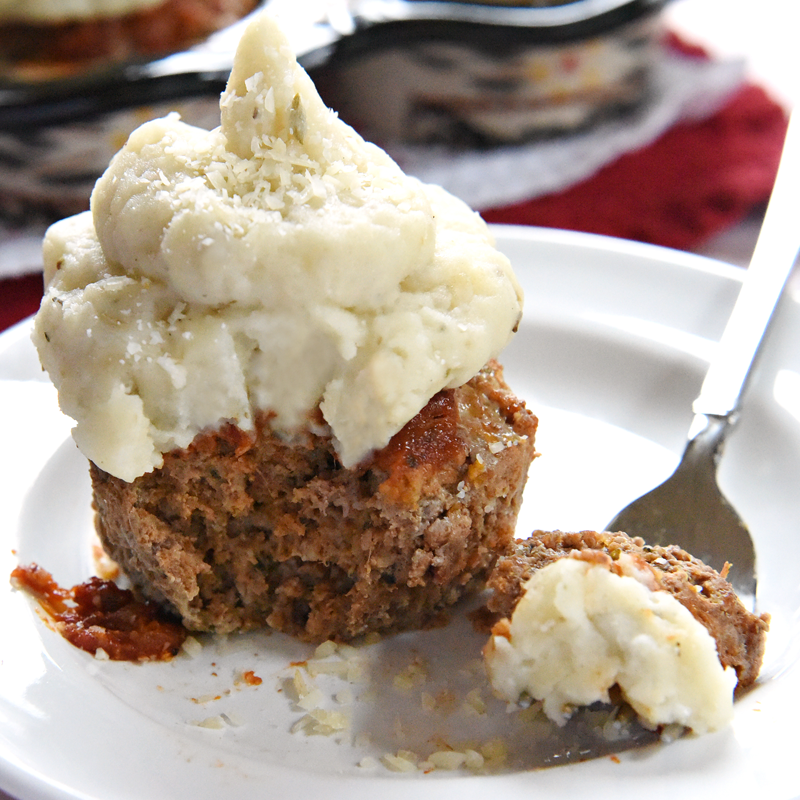 Ingredients:
1 pound extra-lean ground beef
1 egg
2/3 cup Italian breadcrumbs
1 cup marinara or pasta sauce, DIVIDED
1/3 cup freshly grated Parmesan cheese
2 teaspoons Worcestershire sauce
3/4 teaspoon garlic salt
1 teaspoon dried parsley
1/2 teaspoon dried basil
1/4 teaspoon dried oregano
1/4 teaspoon dried thyme
1/4 teaspoon red pepper flakes
Freshly ground black pepper

For Mashed Potato "Frosting"
2 cups leftover mashed potatoes
1/4 cup milk
1/4 cup freshly grated Parmesan cheese
1/4 teaspoon garlic powder
1/4 teaspoon dried basil
1/8 teaspoon dried oregano
1/8 teaspoon dried thyme
Salt & freshly ground black pepper, to taste

Instructions:
Arrange rack in center position of Ginny's Brand 10-in-1 Everything Oven and preheat to 450°F. Grease a six-cup muffin pan or spray with nonstick cooking spray.

In a large bowl, combine ground beef, egg, Italian breadcrumbs, 1/2 cup marinara sauce, grated Parmesan, Worcestershire sauce, garlic salt, parsley, basil, oregano, thyme, red pepper flakes, and freshly ground black pepper. Mix until thoroughly combined.

Using a large cookie scoop or ice cream scoop, evenly divide meat mixture between the six muffin cups, smoothing the tops of the mounds. Carefully spoon the remaining marinara sauce over the individual meatloaves. Place the muffin pan on a foil-lined baking sheet (to prevent spills and aid in clean-up) and bake for 20 minutes, or until meat is cooked through. Use a spoon to help lift meatloaves out of the pan (the grease released by ground beef will have accumulated at the bottom of the muffin cups) and drain on a paper towel-lined plate.

To make Mashed Potato "Frosting," warm leftover mashed potatoes and milk in a small pot set over low heat, stirring until smooth. Stir in Parmesan, garlic powder, and dried herbs. Season with salt and pepper to taste, if desired. Mound potatoes on top of mini meatloaves after they come out of the oven. Serve warm.

Recipe Notes:
If you have fresh herbs on hand, you may substitute them for the dried. Since fresh herbs are not as potent, the typical conversion is to use 3 times the amount of fresh herbs as compared to dried.

You may add 1 cup of finely minced/grated veggies (carrots, onions, celery, bell peppers) to the meat mixture, if you wish.

This recipe feeds a small family, but you'll want to double it for a large family.

You may use a spoon to spread the mashed potatoes on top of each meatloaf, or you may scoop all of the mashed potatoes into a gallon-sized plastic baggie. Cut off a 1-inch piece from one corner of the bag, push the potatoes into that corner, and use the bag as a "piping bag" to swirl the mashed potatoes on top of each meatloaf.

Adapted from Five Heart Home
Featured Item
Ginny's 10-In-1 Everything Oven
A terrific helper in the kitchen, this 10-in-1 appliance does almost everything but wash the dishes. Prepare a roast in the oven and steam your veggies above it—the possible combinations are endless. Use the two heating elements on top, the two on the bottom or all four. Has 1450 watts of power, up to 450° F, and its own timer with automatic shutoff. Nonstick removable griddle top and accessories are dishwasher safe. Oven interior is also nonstick. 19 3/4" w x 15" h x 16" d.

Samantha Skaggs
Hi there…I'm Samantha Skaggs, and I share quick and easy, family friendly, real food recipes over at Five Heart Home! I'm a former first grade teacher and current stay-at-home mama living in the heart of Texas with my hubby of ten years, our two energetic boys, and our sweet baby girl. The days are crazy but the love is plenty between the five hearts that make up our home! When I'm not wrangling my offspring or blogging, I can be found eating chocolate for breakfast, obsessing over college football, taking way too many pictures of my kids, and honing my dry sense of humor.

Facebook: Five Heart Home
Pinterest: Five Heart Home
Instagram: @fivehearthome
Twitter: @FiveHeartHome
Google+: https://plus.google.com/110468053782559460612