Herby Tortellini Bake
By:

Heather Scholten
This recipe for Herby Tortellini Bake is so easy to toss together for a weeknight dinner yet decadent enough to serve to your favorite foodie friends. The addition of fresh herbs really knocks this one out of the park with a punch of rosemary. Quick, easy and packed with flavor is always a recipe for success.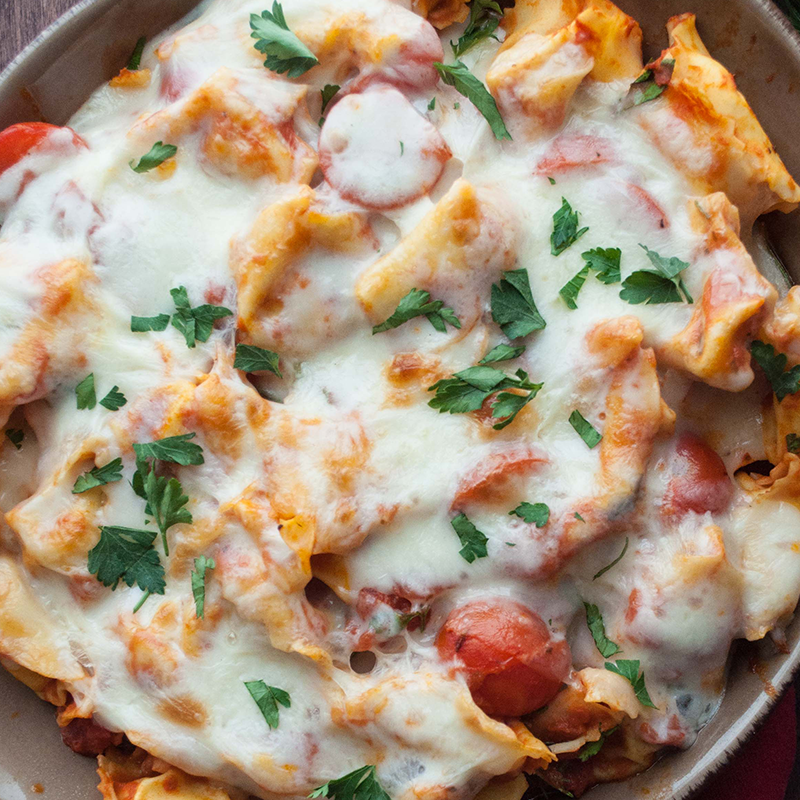 Ingredients:
1 1/2 lbs tortellini, cooked per package directions
2 cups marinara sauce, warm
2 cups sliced grape tomatoes
1 cup sliced mushrooms
1 tablespoon chopped rosemary
1 tablespoon chopped Italian parsley
6 slices provolone cheese, or enough to cover dish
Cooking spray

Instructions:
Preheat Ginny's 10-in-1 Everything Oven to 375º F.

Spray a 1.5 qt baking dish with cooking spray and set aside. In a large bowl, add the cooked tortellini, marinara sauce, tomatoes, mushroom, rosemary and Italian parsley. Toss gently to combine. Spoon into the prepared baking dish. Layer top with slices of provolone.

Bake for 15 minutes, or until the top is melted and slightly browned. Remove and serve immediately.
Featured Item
Ginny's 10-In-1 Everything Oven in Silver
A terrific helper in the kitchen, this 10-in-1 appliance does almost everything but wash the dishes. Prepare a roast in the oven and steam your veggies above it—the possible combinations are endless. Use the two heating elements on top, the two on the bottom or all four. Has 1450 watts of power, up to 450° F, and its own timer with automatic shutoff. Nonstick removable griddle top and accessories are dishwasher safe. Oven interior is also nonstick. 19 3/4" w x 15" h x 16" d.

Heather Scholten
Heather Scholten is the author and food photographer behind Farmgirl Gourmet, a food blog that inspires home cooks to think outside of the box. Her home-cook friendly recipes offer a gourmet twist and she encourages sourcing ingredients from local, sustainable and homegrown sources.

Heather started Farmgirl Gourmet when she and family moved to a 20 acre farm just outside Spokane, WA. They've since moved into town, but Heather still grows a giant garden to feed her family, friends and the occasional passer-by. Not only is Heather a food blogger, but she also co-owns a unique spice company (http://spiceologist.com/) where she can usually be found creating food deliciousness with spicy flair.

Facebook: Farmgirl Gourmet
Instagram: farmgirlgourmet
Twitter: @farmgirlgourmet
Pinterest: Farmgirl Gourmet
Blog: http://www.farmgirlgourmet.com