Ginny's Coupons & Deals
Save today with Ginny's exclusive coupon codes and sale offers! It's the easiest way to save at Ginny's—with no fuss or promo code hassles involved! After you take a look at our great ideas for your kitchen, bed & bath, home decorating, electronics and much more, just click either coupon to start saving. And you can come back as many times as you want for more savings! With Ginny's Choose & Charge® Credit, it's so easy to buy now & pay later. Just select Choose & Charge when you check out and get payments as low as $20 a month. Have any questions about our deals? Feel free to contact us anytime.
Click on coupon to activate this discount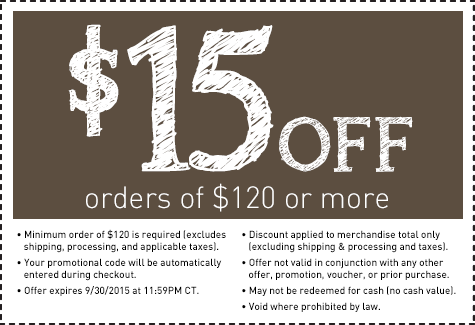 Simply click on the above coupon and you're on your way to saving $15 on your next order of $120 or more. The discount will be waiting for you in your shopping cart when you're ready to check out. Thanks for shopping and be sure to tell your friends and family about this great deal!
Click on coupon to visit our sale page
Click now to shop our Sale section and save big on great finds. Don't miss your chance to get 'em while they're hot…quantities are limited and they're moving fast! Just click on the coupon above and let the saving begin. The sale prices are already reflected in each item you view.